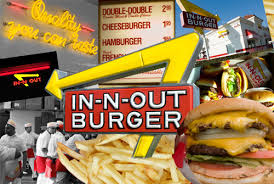 Brokerdealer.com blog update profiling recent study from job review site Glassdoor.com is courtesy of extract from eFinancialCareers.com with reporting by Beecher Tuttle.
People would rather work at In-N-Out Burger Than in Banking
Ok. That headline contains just a twinge of hyperbole. But the latest employer rankings show that Wall Street still has a ways to go in terms of improving its reputation and keeping workers happy.
Job review website Glassdoor recently came out with its Top 50 Places to Work, and not a single bank made the list. Now, you could make the argument that the hours required to make it on Wall Street would likely eliminate banks from contention, but several consulting firms made this year's list. Consultants put in plenty of hours themselves and often have brutal travel schedules, yet they're represented extremely well.
Bain finished second on the list, just behind Google, with a 4.4 rating (out of 5). Meanwhile, Boston Consulting Group finished 5th, just a few spots ahead of fellow consulting firm McKinsey, which at nine was nipped by In-N-Out Burger, known for its "fast-paced team environment." So that's three out of the top 10 for consulting, trumping every other industry, including tech.
Really, it shouldn't come as that big of a surprise. Vault.com, which uses employee reviews to rank banks, accounting firms and consulting companies, reported similar rankings in consulting, with Bain, McKinsey and BCG topping the list. But as an industry, consulting took banks and accounting firms to the woodshed. McKinsey, the top ranked consulting firm, finished more than a full point above the highest-ranked accounting firm, PricewaterhouseCoopers, and seven-tenths of a point ahead of J.P. Morgan, the top-ranked bank.
Maybe the reviews are accurate and quantify a true measure of happiness. Or it could be that bankers are chronic complainers, no matter what the reality. A separate study found that bankers are just as satisfied in their careers as tech executives yet they were twice as likely to complain about their compensation, despite making more.
For the record, Goldman Sachs finished highest among the six biggest U.S. banks in Glassdoor's survey, earning a score of 3.7. Morgan Stanley ended with a 3.6, J.P. Morgan a 3.5, Bank of America and Citigroup each received a 3.3, and Wells Fargo trailed the group with a 3.2.