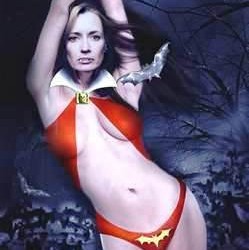 (MarketsMuse.com)–Blythe Masters, once considered the "Babe of BrokerDealers" in view of her long tenure at investment bank JPMorgan—which included her being credited for helping to create credit default swaps (CDS), has since aspired to be known as the Blockchain Batgirl through her new role as CEO of the bitcoin-buttressed startup Digital Asset Holdings.
Despite the fact Ms. Masters is undeniably a bona fide member of any Masters of the Universe Club (sic Tom Wolfe/Bonfire of the Vanities)—and however much "blockchain technology" has inspired a cadre of banks and broker-dealers to get on board a train that could evolutionize the financial industry at large, and despite a potential death-knell magazine cover story in October of this year courtesy of Bloomberg Magazine, Masters' foray into the world of fintech startup funding is proving to be bumpy at best, as the blue ocean this blue-eyed blonde s is swimming in is already populated with migrant banker's bodies floating ashore and otherwise left beside the yellow-brick road to billion dollar Unicorn valuations.
Notes NY Times business news journalist Nathaniel Popper—one of the 4th estate's leading bitcoin industry experts, Digital Asset Holdings is running into the types of startup funding challenges that mostly all mortals encounter when pitching ideas scrapped from a whiteboard: questionable valuation, untested technology value proposition, a highly-fragmented and often dysfunctional target audience, and last but not least, an investment structure that is being increasingly challenged for giving preferential ownership treatment to a select group of early investors. In this case, Digital Asset Holdings is providing a very sweet deal and a very exclusive suite of follow-on round financing options to its anchor investor, which happens to be her former employer, JPMorgan.
To continue reading the story courtesy of MarketsMuse.com, please click here