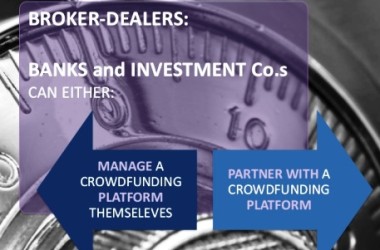 (WealthManagement.com) A new crop of broker-dealers and funding portals are forming to capitalize on new equity crowdfunding rules.
The total number of Financial Industry Regulatory Authority (FINRA) member retail brokerages has been on the decline for the last five years, but one sliver of the universe is showing new signs of life: A new crop of broker/dealers and online funding portals are joining FINRA to capitalize on new opportunities made possible by the JOBS Act of 2012. The legislation prompted the SEC to make it easier to market and solicit investments, and opened the door for small businesses to engage in so-called "equity crowdfunding."
About 15 to 20 of these new firms have signed on since 2013, according to Fishbowl Strategies, with another three to six launching soon, in anticipation of a wave of issuers and investors entering the market. Whether there is a crowd for equity crowdfunding remains to be seen.
But Paul Boyd, managing partner at ClearPath Capital Partners, a wealth management firm for tech entrepreneurs, says there
is plenty of pent-up demand and a backlog of Reg D deals that are moving forward.
Boyd also expects the next phase of the JOBS Act, Title III, will bring a lot more attention to capital raises online. Set to go into effect in May, those rules let any investor, accredited or not, invest in unregistered securities online (with limits on the amounts that can both be invested, and raised, in a year). The tech-fueled vision of bypassing stuffy financial intermediaries in favor of a new-class of SEC-registered and FINRA member "crowdfunding portals" has inspired a flotilla of startups to enter the space.
Many of the new entrants have affiliated agreements with brokerdealers. Some have launched their own b/ds.
WealthForge launched its own b/d to provide all the services needed to complete a private securities transaction, including investor accreditation, regulatory filings and escrow. Co-founder and CEO Mat Dellorso says the new rules—and bringing the process online—have spurred their growth.
"When you bring the internet and you're allowed to advertise a private security through 506(c), more investors do take part," he says. WealthForge has completed 150 private financing transactions, bringing in 2,500 investors. "A traditional investment bank might complete three or five a year," he says. "It's a lot more volume because it's more transparent and online now.
"Normally these transactions take weeks and months, but an investor can literally invest in a private placement on our platform in a matter of minutes," he says.
Dellorso doubts they will do much work with firms looking to raise capital through the exemptions for non-accredted investors.
CircleUp is another new broker-dealer with a focus on consumer products and retail companies. Bhakti Chai, which makes Fair Trade Certified tea, raised nearly $865,000 on the platform.
Folio Institutional, a self-clearing broker/dealer, saw the interest around equity crowdfunding and decided to launch an online equity and debt-funding platform in September. Since the firm can custody the securities, it can enage in secondary-market transactions and, potentially, public offerings.
For the entire article from WealthManagement.com please click here