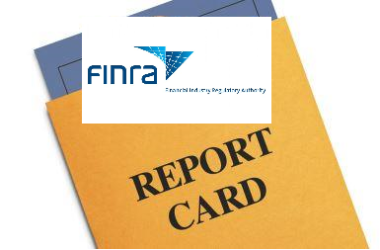 Finra Sends First Set of  "Report Cards" To Brokers Citing High-Speed Manipulative Practices, Including Spoofing and Layering
(MarketsMuse.com) –Finra, the securities industry's self-regulator sent out its first monthly "report cards" to brokerage firms warning about manipulative superfast trading practices, marking the beginning of an effort to encourage the firms to cut off traders that aren't playing fair.
The Financial Industry Regulatory Authority said it made the grades available to brokerage firms Thursday, identifying potential evidence of manipulative practices by firms or their customers. The report cards, which aren't made public, focus on spoofing and layering, two practices that involve traders submitting orders they don't intend to execute with the goal of moving prices and capitalizing on the change.
"Spoofing" is an illegal practice in which a trader with long position enters a a buy order for that security and immediately cancels it without filling the order in an effort to artificially create a demand for that security so as to induce other investors to then issue their own buy orders at a higher price, which increases the appearance of heightened demand. The first investor then closes his/her long position by selling the security at the new, higher price.
"These types of manipulation take advantage of other investors and harm public confidence in market integrity," Finra Chairman and Chief Executive Richard Ketchum said in a news release. "We expect that the firms will use the data to enhance their own surveillance and move swiftly to cut off potential market manipulation."
The move is part of a broader regulatory effort to stamp out devious practices in response to high-profile cases of alleged manipulation, such as​the case involving ​Navinder Sarao, the British trader accused of contributing to the 2010 stock market "Flash Crash."
Finra wouldn't say how many firms received the report cards, but a spokesman said it was "a large number."
To continue reading the story from MarketsMuse, click here