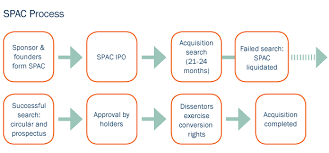 (Republished with permission from Prospectus LLC) -Patrick Byrne has often been dismissed by contemporaries for being brash, confrontational and someone who just likes to create chaos. Courtesy of a $1million stake in Kennedy Cabot Acquisition Holdings, a Special Purpose Acquisition Company aka SPAC, Byrne is further along on a journey to secure the title of being the cheapest online discount broker and also, the crown to the cryptocurrency kingdom .
Overstock.com, the on-line retailer led by multi-industry disruptor Patrick Byrne has seen its share price surge nearly 100% in the past four weeks, and not because of online shopping spikes during this holiday season. And not because it was the first retailer to accept bitcoins back in the day when no other retailer even understood the concept of distributed ledger and blockchain, the elements that power bitcoin, the ubiquitous cryptocurrency whose price has gone from $500 to over $20,000 in less time than it takes most companies to float an initial public offering.
Along the way, we can guess that the former online discount retailer of stuff has watched his net worth increase by at least several hundred million dollars, as the shares of all of his various holdings have increased multi-fold. Its because Patrick Byrne has been hard at work during the past number of months executing a stealth strategy by leveraging his purchase of a SPAC (special purpose acquisition company) that has made Overstock a virtual holding company whose portfolio of companies now includes (i) Medicia Ventures, a cross between a PE and VC platform that is focused on cryptocurrency enterprises (ii) an on-line brokerage that was formerly a woman-owned broker-dealer known as Muriel Siebert & Co and renamed "tZero" that will enable day traders to make $2.99 stock trades and pay in cryptocurrency, (ii) a stake in Delaware Board of Trade, an electronic exchange run by the former head honcho at the Philadelphia Stock Exchange former vice-Chairman of NASDAQ OMX and positioned as the first and only blockchain based Alternative Trading System fully licensed by the SEC, which will float Initial Coin Offerings (ICOs)  and enable investors to buy and sell bitcoin based bond funds that are packaged in similar fashion to exchange-traded funds aka ETFs.
Having a successful ICO is usually easier and costs less than an IPO, the penalties for fraud remain the same. Make sure you document everything and have an experienced partner in your corner to ensure you are meeting obligations to both investors and, eventually, regulators.
But every road has its bumps. A planned initial coin offering (ICO) for Overstock blockchain subsidiary tZERO, scheduled to go live at midnight Monday, has yet to launch as originally anticipated. While little is known about the now nearly day-long delay, a countdown clock on SAFTLaunch.com, the issuance portal for tZERO's token, has expired without any update to the company's website or social media accounts. Indeed, CoinDesk's calls to key Overstock executives, including CEO Patrick Byrne, went unreturned or unanswered today.
To continue reading, please visit Prospectus.com