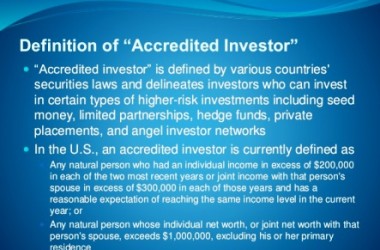 (InvestmentNews.com)-Financial advisers rejected a recommendation Friday from the acting chairman of the SEC that will loosen the accredited investor definition (aka QIB) and increase investor access to private and exotic investment strategies that are usually reserved for rich people.
"I think this is an awful idea, as awful as ideas come," said Scot Stark, owner of Stark Strategic Capital Management.
Reacting to comments made on Friday by acting Securities and Exchange Commissioner Michael Piwowar, which recommended allowing more retail-class investors access to investments currently restricted to people with a net worth of at least $1 million, a lot of advisers didn't see the logic.
"Any guidelines that help to protect the investor consumer is a positive," said Mark Germain, chief executive of Beacon Wealth Management.
"As an adviser, it is easy to see that many clients do not understand the investments that some may offer to them," he added. "The accredited investor rule puts an onus on the adviser to be sure the investor understands the risk and is willing to take the risk."
During his speech Friday, Mr. Piwowar referenced the "forgotten investor" and said the current accreditation rules limit access to types of investments that could increase portfolio performance and diversification.
"I question the notion that non-accredited investors are truly protected by regulations that prevent them from investing in high-risk, high-return securities available only to the Davos jet-set," he said.
But most financial advisers are questioning the logic of increasing access to products and strategies that typically come with higher fees, less liquidity, and less regulatory oversight.
More information re capital raising and related investor offering documentation services via this link
To continue reading the coverage from InvestmentNews.com, please click here