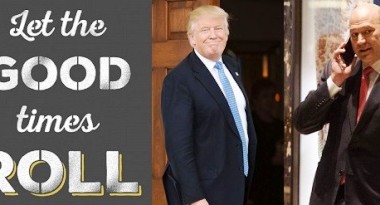 President Trump Issues First Dodd-Frank Unwind By Striking Down Fiduciary Rule; Goldman's Gary Cohn to be Feted by Industry Peers for Influencing Trump Regime's "Walk Back to Wild West..Let The Good Times Roll, Again!"
As evidenced by President Trump's executive order signed today Feb 3, it appears it doesn't matter to him or his new regime that the US DOJ aggressively defended the new fiduciary standards proposed for financial product brokers–which among other things sought to protect elderly investors from sleezy sales people and unsavory broker-dealers who prey on clients by gauging them with egregious fees and putting those less-educated and retiree investors into inappropriate financial products. Former Goldman Sachs Honcho Gary Cohn, who upon his recent appointment as chief economic advisor to President Trump along with new role as Director of the United States National Economic Council (and who cashed in $285 million of Goldman stocks to take the government job) is credited with the walk back to wild west practices in the banking industry and is being feted tonight by the heads of top investment firms at a special dinner at …Mar-a-Lago Club in Palm Beach. According to event planners, the theme song for the dinner will be "Let The Good Times Roll, Again." Attn: investors: CAVEAT EMPTOR.
WASHINGTON—President Donald Trump on Friday plans to sign an executive action that establishes a framework for scaling back the 2010 Dodd-Frank financial-overhaul law, part of a sweeping plan to dismantle much of the regulatory system put in place after the financial crisis.
Mr. Trump also plans another executive action aimed at rolling back a controversial regulation scheduled to take effect in April that critics have said would upend the retirement-account advisory business.
"Americans are going to have better choices and Americans are going to have better products because we're not going to burden the banks with literally hundreds of billions of dollars of regulatory costs every year," White House National Economic Council Director Gary Cohn said in an interview with The Wall Street Journal. "The banks are going to be able to price product more efficiently and more effectively to consumers."
The fiduciary rule, unveiled last spring and set to go into effect in April, would restrict how brokers can provide retirement advice by forcing them to work in the best interest of their clients and generally avoid conflicts, which can come about with commission-based compensation. It stands to affect about $3 trillion of retirement assets in the U.S., according to research firm Morningstar Inc.
Prospectus.com team of capital markets experts and international securities lawyers specialize in preliminary offering prospectus, secondary offering prospectus and full menu of financial offering memorandum document preparation.
More information re capital raising and related investor offering documentation services via this link
Mr. Cohn said to comply with the rule, companies would be forced to offer retirement products with the lowest fees even if it isn't best for their client.

See more coverage via WSJ https://www.wsj.com/articles/trump-moves-to-undo-dodd-frank-law-1486101602/