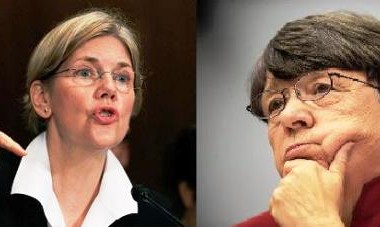 MASS SENATOR ELIZABETH WARREN SENDS 12-PAGE LETTER TO WHITE HOUSE CALLING FOR SEC CHAIR'S HEAD
"If I were President, I would say "YOU"RE FIRED!"
(InvestmentNews.com) Sen. Elizabeth Warren has asked President Barack Obama to replace SEC Chairwoman Mary Jo White, despite two straight years of record-level enforcement actions by the agency.
In a letter to the president Friday morning, Ms. Warren focused on Ms. White's "refusal to develop a political spending disclosure rule and repeated actions to undermine the agency's mission of investor protection and the administration's priorities."
Ms. Warren, D-Mass., argues that the disclosure rule would increase transparency for investors by requiring companies to report political contributions.
 "Congressional Democrats and the administration have strongly opposed a Republican rider in recent government funding bills that would prevent the SEC from issuing a rule requiring public companies to disclose political contributions," she stated. "But Chair White herself has steadfastly refused to issue such a rule, despite overwhelming investor and public support for it."
In her letter, Ms. Warren reminded the president that he "may designate a new SEC chair at any time from among the existing SEC commissioners."
An SEC spokeswoman declined to comment on Ms. Warren's 12-page letter, which suggests the battle is just getting started.
"Congressional Democrats will fight to remove the recently passed rider from December's government funding legislation, and I urge you to threaten to veto any effort to extend this corrupt policy," Ms. Warren wrote. "But these efforts will be meaningless as long as Chair White continues to control the agenda of the SEC."
Global consultant Private Placement Services LLC provides corporate Issuers seeking to raise capital via debt, equity convertible debt or other structures with a full suite of offering memorandum preparation and prospectus document writing. 
To schedule an initial call to discuss your needs, please click here
Even though Ms. Warren's passion for increased regulatory oversight of the financial services industry has never been subtle, it might be missing the big picture, according to Todd Cipperman, principal at Cipperman Compliance Services.
"I think you'd have a hard time finding anyone in the investment management industry who would say Mary Jo White has been easy on the industry," he said. "I think the industry views the SEC's enforcement staff as being very tough, and [Ms. White] has a very significant enforcement record."
Elizabeth Warren to SEC Chair Mary Jo White: I Want You Fired! For the full story from InvestmentNews, click here