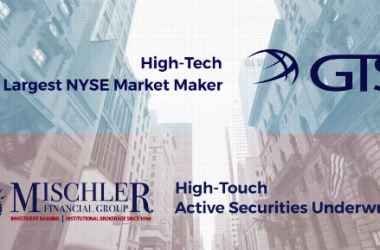 NYSE's Top DMM – GTS – Takes Stake in Boutique Investment Bank Mischler Financial Group
– GTS and Veteran-Owned Mischler Financial Group Forge High-Tech, High-Touch Alliance to Serve Corporate Issuers, Investment Managers and Other Market Participants –
New York, NY – November 19, 2018 – GTS, the New York Stock Exchange's largest Designated Market-Maker ("DMM") and a leading electronic trading firm, and Mischler Financial Group, Inc. ("Mischler"), the financial services industry's oldest minority broker-dealer owned and operated by service-disabled veterans, today announced a strategic alliance that will establish a best-in-class offering for primary debt and equity market underwriting as well as secondary market best execution across the capital markets.
The partnership, which is anchored by a technology-powered offering for public companies and a broad universe of capital markets participants, will yield a low-cost, more efficient and more effective trade execution experience. Mischler will become a "forward operating base" for the growing GTS capital markets franchise, affording clients access to technology and sources of liquidity that are generally only available to the world's most sophisticated investors.
Founded in 2006 as a proprietary, quantitative trading firm, GTS is now a recognized leader in market structure and proudly oversees trading for more than one-third of NYSE-listed companies. The firm has an extensive track record developing and deploying proprietary, industry-best technology to bring better price discovery, trade execution and transparency to the markets.
"This is a high-tech, high-touch partnership designed to meet the needs of a new generation of issuers, asset managers, and trading and investment professionals seeking low-impact market liquidity and best-in-class execution," said Ari Rubenstein, Co-Founder and Chief Executive Officer of GTS. "Clients are rightfully demanding innovation in the marketplace, and this alliance is uniquely designed to provide that and much more."
Mischler, established in 1994, is an active underwriter across global equities, corporate and municipal debt, government securities and structured products. In the last three years alone, Mischler has played a role in almost 700 primary debt and equity market transactions. The firm also provides conflict-free share repurchase services for corporate treasurers as well as secondary market trade execution in equities and fixed income for a discrete universe of public plan sponsors and institutional investment managers.
Dean Chamberlain, Mischler's Chief Executive Officer and a West Point graduate and former U.S. Army Officer, added: "The combined GTS-Mischler offering holistically provides a powerful arsenal of primary and secondary market solutions for the most demanding capital markets constituents. Mischler's pedigree, capital markets expertise and front-line position – where we engage with a discrete network of corporate treasury executives and investment managers – is now further strengthened by the unrivaled technology and multi-asset trade facilitation platform that GTS has pioneered."
Mischler is a fully-certified Service-Disabled Veteran Business Enterprise (SDVOBE) and FINRA's oldest veteran-owned investment bank and institutional brokerage. "For issuers and investment managers focused on retaining truly expert capabilities while fulfilling their Diversity & Inclusion goals, the combined GTS-Mischler platform will not merely meet, but will exceed all expectations," added Mr. Chamberlain.
Mr. Rubenstein concluded: "This partnership is another trans-formative moment for the build-out of our capital markets business and reflects the next phase of an evolution in which GTS and Mischler constituents can more easily access and benefit from quantitative, algorithmic, and next generation AI applications. The current environment and the landscape of the future will reward market participants who responsibly leverage technology. If we can arm all investment professionals with these assets, they can thrive in new ways."
To read the entire story, please visit www.mischlerfinancial.com/mischler-gts-connection