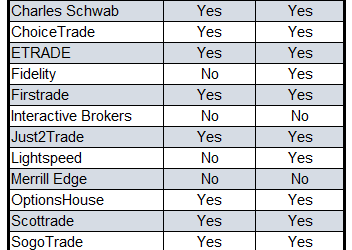 Class Action Lawsuit Against TD Ameritrade for taking Broker Rebates From Exchanges and HFT Firms "May Be Securities Fraud," Says Federal Judge; PFOF is Under the Gun, Again
(Below re-published with permission from MarketsMuse.com)– Broker Rebates, Payment-for-Order-Flow and "Pay-to-Play" have become synonymous with new world order in which exchanges, dark-pool operators and high-frequency trading ("HFT") firms, (the so-called "flashboys") dominate the world of stock trading. While many Wall Street geniuses will argue "the genie is out of the bottle" when it comes to payment-for-order-flow, it doesn't mean this practice is right-minded, no less legal-and it hasn't stopped naysayers from arguing that customers' best interests are clearly not part of the equation. A Federal judge in Nebraska seems to agree, based on his ruling last week that allows a class action lawsuit aimed at TD Ameritrade in connection with their receiving payment-for-order-flow rebates from high-frequency trading ("HFT") (and not even sharing those rebates with customers!) to proceed. The plaintiff argument is that TD has violated best execution guidelines. Should anyone be shocked?! After all, the topic of payment-for-order-flow and barely-disclosed rebates paid to brokerages by exchanges and electronic market-making firms in consideration for routing orders to them has been a topic of spirited debate for more than several years.
Here's the excerpt from WSJ reporting by Cezary Podkul:
Mom-and-pop investors who think their brokers are prioritizing high-frequency traders over them may soon have a chance to try to prove their case in court.
A federal judge in Nebraska this month ruled a class-action lawsuit could proceed against TD Ameritrade Holding Corp. AMTD -1.09% , one of the nation's largest discount brokerages. In his ruling, the judge cited "serious and credible allegations of securities fraud" stemming from the company's order routing practices.
Plaintiffs allege the discount brokerage prioritized its profits over their best interest on stock transactions
The TD Ameritrade customers who brought the suit alleged the company, which provides investing and trading services for 11 million client accounts, prioritized its profits over their best interests. They claim it did so by accepting incentives from stock exchanges and large electronic trading firms to route customer orders to them without ensuring the customers would get the best prices available – an obligation that along with related factors is known as "best execution."
A spokeswoman for TD Ameritrade said the company disagrees with the judge and will appeal his ruling.
To continue reading, please visit MarketsMuse.com
If you've got a hot insider tip, a bright idea, or if you'd like to get visibility for your brand through MarketsMuse via subliminal content marketing, advertorial, blatant shout-out, spotlight article, news release etc., please reach out to our Senior Editor via [email protected].