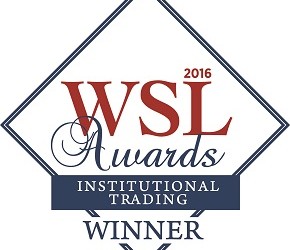 (MarketsMuse)-If not as widely-covered as the GOP or DNC primaries, financial industry publication Wall Street Letter ("WSL") held its 6th Annual Institutional Trading Awards ceremony last night at NYC venue 583 Park Avenue and recognized best-in-class broker-dealers across 7 major categories, including Best Broker Dealer (OverAll), Best Broker-Dealer Research, Best BD-Client Service and Best Broker-Dealer across equities, futures and options. The WSL Awards also recognized the firms considered to be the top within technology offerings, including electronic trading applications and electronic exchange platforms.
Taking home the gold for Best Broker-Dealer "Overall" :Wolverine Execution Services (WEX). Runners-up included Bloomberg Tradebook, Interactive Brokers, Mischler Financial Group and Dash Financial. Best Broker-Dealer Research was awarded for the third consecutive year to Mischler Financial Group, the industry's oldest minority broker-dealer owned and operated by Service-Disabled Veterans. Runners up in the Best Research category: Stifel Nicolaus and Sandler O'Neil.
Best Broker-Dealer Equities was awarded to Fidelity Capital Markets and  in the client service category BNP Paribas took the prize. Best Options Platform was awarded to Interactive Brokers and Best Options Broker was awarded to WallachBeth Capital.
Noted Mischler Financial Group Managing Director Ron Quigley, who accepted the award on behalf of his firm, "Its a great honor to even be considered as a contender for an industry award when considering the pedigree of the other great firms that were nominated. It's always good to be in good company and its best to be recognized for capabilities."
The full list of nominees and winners of Wall Street Letter 6th Annual Institutional Trading Awards is available via this link