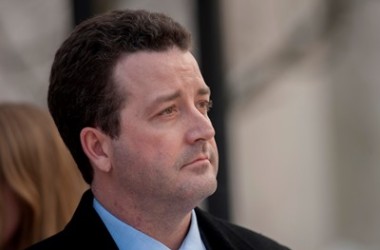 U.S. Federal Prosecutors Hope that Second Time is Charm in Case Against Bond Trader Alleged to Have Deceived Savvy Clients
(Reuters) Jan 3 – A former Jefferies Group Inc bond trader is going back on trial in federal court in Connecticut over whether he lied to customers about mortgage bond prices to boost profit. (Photo/Douglas Healey for Bloomberg)
The retrial of Jesse Litvak, with jury selection set for Wednesday and opening arguments for Thursday, comes 13 months after a federal appeals court voided his original conviction and two-year prison sentence.
But it gives U.S. prosecutors a fresh chance to crack down on alleged deceptive Wall Street sales tactics in the bond market, and could bolster cases against several other traders.
"The retrial will clear the air over whether bond traders can increase margins by falsely representing prices, which can distort trading and capital formation," said James Cox, a Duke University law professor. "Whether someone relied on the information is irrelevant to prosecutions; it's all about whether the underlying conduct is condemnable."
C.J. Mahoney, a lawyer for Litvak, declined to comment, as did a spokesman for U.S. Attorney Deirdre Daly in Connecticut.
Litvak, who worked for Jefferies in Stamford, Connecticut, was charged in January 2013 with misleading customers about bond prices from 2009 to 2011.
Prospectus.com team of capital markets experts and international securities lawyers specialize in preliminary offering prospectus, secondary offering prospectus and full menu of financial offering memorandum document preparation.
This allegedly boosted the Leucadia National Corp unit's profit by about $2.25 million, and his own pay.
Litvak has said his customers were sophisticated investors who were "inherently skeptical" of what counterparties tell them, and would have known if he were cheating them.
Convicted in March 2014, Litvak won a reprieve from the 2nd U.S. Circuit Court of Appeals in December 2015.
That court threw out fraud accusations related to the federal bailout known as the Troubled Asset Relief Program, and said Chief Judge Janet Hall, who oversaw the trial, wrongly excluded expert testimony for the defense.
BrokerDealer.com thanks Reuters and WSJ for providing source material-to continue reading the Reuters coverage, click here