About
Brokerdealer.com is dedicated to linking companies with broker dealers, brokers, finders, investment advisors and investors globally. Brokerdealer.com offer the most comprehensive broker-dealer linkage worldwide. If your company is seeking funding, underwriting or broker dealer representation for equity or debt offerings, or capital infusion from an investor, brokerdealer.com is the premier address for assistance and exposure for your business. Brokerdealer.com boasts 35 of the world's broker dealer and securities dealer directories and funds, the largest such library worldwide.
For Companies

Connect with Brokers & Investors

For Brokers & Investors

Find Solid Projects and Deals

Networking

Connect with other companies
Who Uses Our Site?
Thousands of companies worldwide have access to our site, including, but not limited to:
Investment Banks
Investment Advisors
Venture Capital
Brokerage Firms
Broker Dealers
Endowments
Finders
Emerging Seed Incubation
Endowments
Long-Short Investors
Hedge Funds and Fund of Funds
Pensions
Private Equity Firms
QIBs (Qualified Institutional Buyers)
Private Companies Worldwide
Public Companies Worldwide
High Net Worth Individuals
Angel Investors
Institutional Consultants
Family Offices
How It Works
Step 1: Profile Buildings for Companies and Broker Dealers

Build your company profile in minutes. Detail your company needs. Upload the following:

Logo
Company description
What you are you seeking
Upload business plans, offering documents and due diligence material
Connect with other members

Step 2: Visit the Deal Room

Visit and post and view messages in the Deal Room. This is a great way to get extra exposure for your business needs. Simply write what your company needs or offers and expect to hear responses from interested parties.

Broker Dealer Database

View thousands of broker dealers, brokers, funds and investment advisors. Utilize their contact information and connect. If you are seeking underwriting, investment banking needs, or brokers and middlemen to help raise you capital the broker dealer database will be a great resource.

Investor Database

Filter through more than 15,000 investors, including their company names, personal names, emails, phone numbers, address and more. Contact as many as you need, including:

Angel Investors
Broker Dealers
Emerging Seed-Incubation
Endowments
Family Offices
Foreign Investors
Fund of Funds

Hedge Funds
HNW Wealth Management
Institutional Consultants
Long-Short Investors
Pensions
Private Equity
QIBs
Venture Capital

Step 3: Make contacts and network

Connect with thousands of companies, brokers and investors directly. Each profile should have a company's email or phone number in order to make contact. Simply reach out to companies that you believe can assist with your growth.
Additional Features
Get Featured
Get your compile profile featured. Being featured allows your company profile to be viewed publicly, including by non-members.
All profiles can only be seen by registered members. However, if a company wishes to get featured under our Featured Section, their profile will be publicly available.
Contact us for more information.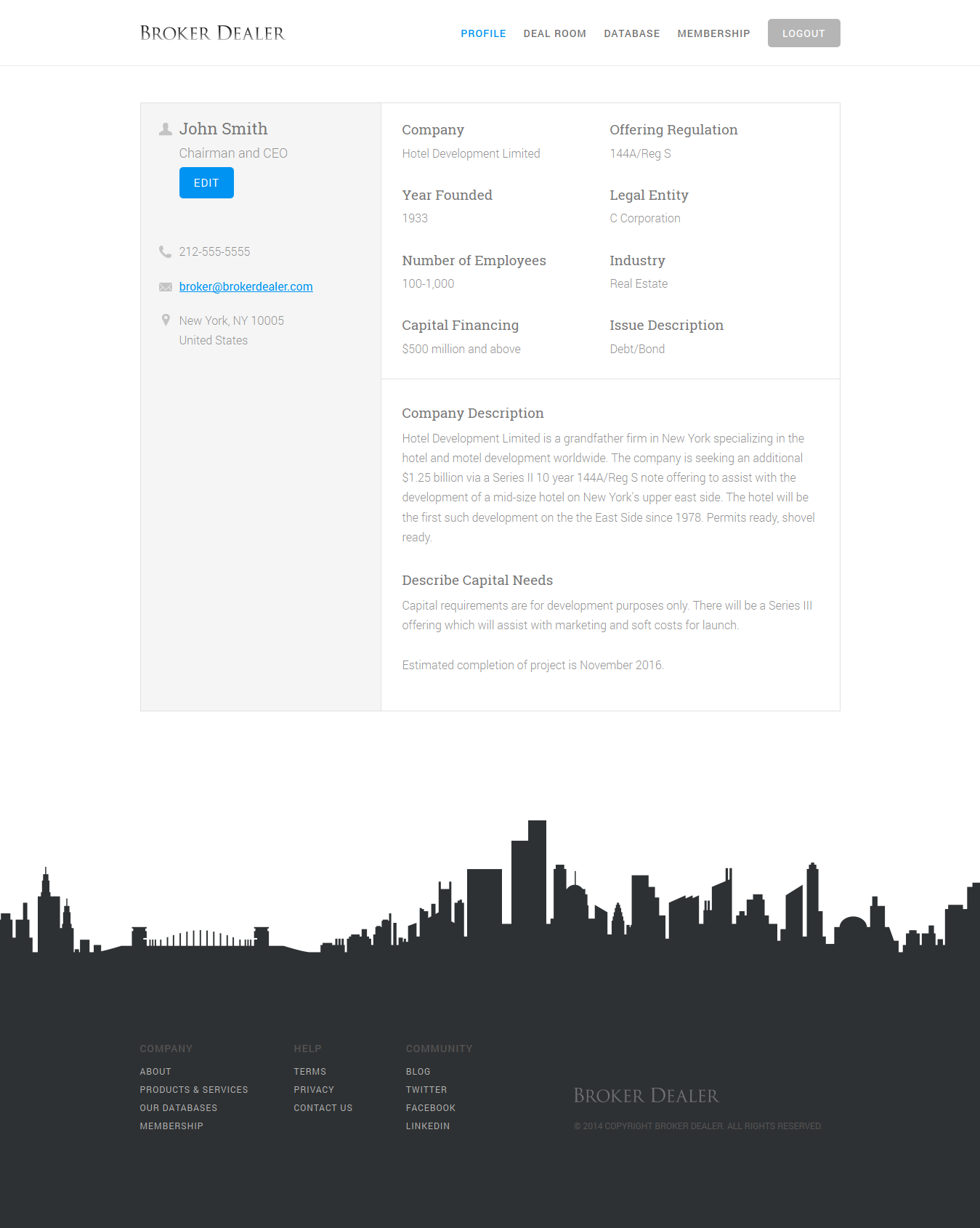 Buy or Sell a Broker Dealer
If you would like to buy or sell a broker dealer we can help. You will be allowed to advertise on our Buy & Sell page.
Contact us for more information.