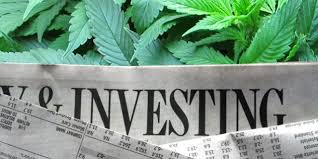 Brokerdealer.com blog update is courtesy of Karen Gullo from Bloomberg Business.
About a month ago, the Brokerdealer.com blog profiled Peter Thiel's Founders Fund, a venture capital firm best known for backing tech companies including Facebook, SpaceX, Airbnb and Spotify, making a multimillion-dollar investment in Privateer Holdings, a Seattle-based private equity firm focused on pot. Now the further success of this private equity firm hangs on the outcome of a current pot court case in California.
A federal drug enforcement agent turned private-equity manager at a firm backed by PayPal Inc. co-founder Peter Thiel is watching the trial of a garden-variety pot grower with high hopes for the nascent marijuana industry.
It may sound like an only-in-California story — and it is, for now — but a win by the defendant may move the entire nation toward legalization of a business some value at more than $50 billion a year.
Patrick Moen, head of compliance and chief lawyer at Privateer Holdings Inc., an investment firm focused on cannabis, is following the case of a man described by prosecutors as the "go-to" guy at a sprawling marijuana plantation in the mountains of Northern California.
The defendant's lawyers won the right to challenge the government's treatment of marijuana as a controlled substance, as dangerous as heroin. They're making their final pitch Wednesday for a federal judge to declare the government's position unconstitutional in light of evidence of pot's medical uses and steps the U.S. has taken to recognize legalization efforts in several states.
A defense win would boost the legal market for cannabis-related products and confirm for investors that the times for pot are changing.
'Enormously Significant'
"It's pretty obvious that a positive outcome would be well-received by policy advocates and the markets," Moen said in an interview. "Just the fact that the judge has agreed to consider the issue is an enormously significant event."
Moen, who in November 2013 became the first agent to leave the U.S. Drug Enforcement Administration for a job in the cannabis industry, according to the Privateer Holdings website, said he wasn't alone at the DEA in believing that banning marijuana "was foolish and a waste of resources."
While most of his cases involved crack cocaine, heroin and methamphetamine, his team busted medical-marijuana growers in Oregon, he said. Moen said he came to the realization that "this whole policy is just wrong."
Some DEA colleagues were disappointed with his new career, though most were supportive and share his feelings, Moen said, adding that he'll be looking to hire former agents in the next year as part of his effort to professionalize the cannabis industry.
Marijuana Investments
Thiel's venture capital firm, Founders Fund, last month announced its investment in Privateer. The Seattle-based holding company owns marijuana-related businesses, including the information website Leafly, Canadian medical marijuana company Tilray and Marley Natural, a cannabis brand venture with the family of singer Bob Marley that will offer Jamaican marijuana strains and cannabis- and hemp-infused topical products and accessories.
Founders Fund didn't say how much it contributed.
"This is a multibillion-dollar business opportunity," Founders Fund partner Geoff Lewis said in January.
Voters in Alaska, Oregon, Washington, Colorado and the District of Columbia have legalized recreational marijuana, and medical use of the drug is allowed in 23 states.
Pot smokers and investors are tracking the Sacramento, California, case of Brian Pickard, one of 16 people charged in 2011 with growing almost 2,000 marijuana plants in a national forest and in gardens off a dirt road in Hayfork, a town of 2,000 about 100 miles south of the Oregon border.
U.S. District Kimberly Mueller, an appointee of Democratic President Barack Obama, decided last year to allow Pickard's lawyers to argue that classifying pot as one the nation's most dangerous drugs is irrational.