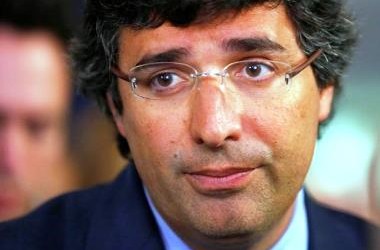 Andre Esteves, Brazil's top billionaire investment banker and until this past Sunday, Chairman and CEO of brokerdealer Grupo BTG Pactual SA, submitted his resignation this weekend after being busted last week by federal prosecutors for purported bribery charges.
47 year old Esteves  is not only Brazil's top investment banker, he is one of the top 'cool kids' across the global investment banking industry. Esteves, who many have likened to being Brazil's version of Lloyd Blankfein, is also the controlling shareholder of Brazil's equivalent of Goldman Sachs. The finance industry star delivered his resignation from a Sao Paulo jail cell, where he is being held without bail consequent to his arrest on purported bribery charges relating to a probe of Petrobas aka Petróleo Brasileiro SA, Brazil's largest state-controlled energy company. Though expected to have been released this weekend, the Supreme Court of Brazil ruled to make the arrest "preventative"—which in layman terms means that Esteves will be cooling his Gucci-covered heels for an indefinite period.
Prosecutors suspect the billionaire dealmaker, along with a senior senator, tried to obstruct a long-running graft probe involving Petrobras. Esteves, through his lawyer, has denied the allegations. Shares and bonds in Latin America's largest independent investment bank were bashed further on Monday, reflecting concerns about the impact of the investigation on operations after the Supreme Court extended the financier's detention indefinitely.
It was the first time the bank, which has long been synonymous with Esteves, has been directly implicated in the bribery scandal. Prosecutor General Rodrigo Janot used evidence and other suspects' testimony to persuade the country's Supreme Court to extend Esteves' detention on a preventive basis.
Documents obtained by Brazil prosecutors purportedly suggest BTG Pactual had paid 45 million reais ($12 million) to Eduardo Cunha, speaker of the lower house of Congress, in exchange for passing legislation favoring the bank, the newspapers said.
BTG Pactual denied making such payments in a statement on Sunday, and pledged to cooperate with authorities. Cunha also denied the allegations.
BTG Pactual named two founding partners, Chief Operating Officer Roberto Saloutti and Chief Financial Officer Marcelo Kalim, as co-CEOs. Persio Arida, who became acting CEO after Esteves' arrest, is now chairman, with Huw Jenkins, head of the bank's international arm, becoming vice chairman.
The full article from Reuters is at this link