Brokerdealer.com/blog news extract below courtesy of  June 10 WSJ and reporters Telis Demis and Evelyn Rusi
The chinos are gone. So is the sprawling Silicon Valley hub.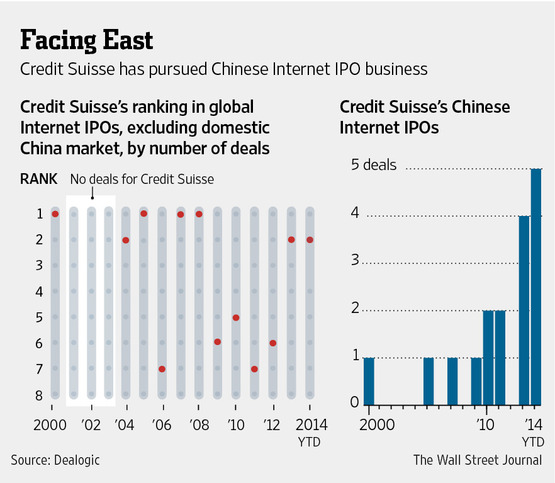 But more than a decade after its fall from the peak of the dot-com-banking business, Credit Suisse Group AG CSGN.VX -0.33% is at the helm of some of the sector's biggest deals.
The bank is one of the lead managers of the expected $20 billion-plus initial public offering for Alibaba Group Holding Ltd., the Chinese online shopping and e-commerce giant.
Credit Suisse also helped lead IPOs for Weibo Corp. WB +1.39% , which operates a Twitter TWTR +2.61% -like service, and online cosmetics retailer Jumei International Holding Ltd. JMEI +0.82% , earlier this year.
Credit Suisse's climb back in tech banking began with a Starbucks SBUX -0.77% -fueled brainstorming session in 2010 between Jim Amine, the firm's global head of investment banking, and David Wah, global head of technology banking
Credit Suisse's Internet-banking business stumbled after the dot-com bubble burst and Mr. Quattrone was convicted—a decision later overturned on appeal and the charges dropped by the government—of attempting to obstruct a regulatory probe into alleged abuses in share allocations.
For its new foray, the bank plucked Bangladesh-born stock analyst Imran Khan to help lead its charge as head of Internet investment banking. Mr. Khan, a number cruncher with a network of contacts throughout Asia, particularly in China, was hired in 2011 from J.P. Morgan Chase JPM +0.84% & Co., where he had covered Internet companies.
As a former stock analyst, Mr. Khan, 36 years old, wasn't an obvious pick for a bank hoping to quickly ramp up. But Credit Suisse wanted someone steeped in data, capable of identifying big trends and small companies that could be IPO candidates.