Brokerdealer.com blog update with coverage of the Asian Market courtesy of ETF Trends' Todd Shriber
Following some bullish data points that boosted sentiment during Tuesday's Asian session, exchange traded funds offering access to China's onshore A-shares markets are soaring Tuesday.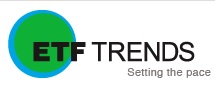 With local investors warming to equities over property, Goldman Sachs forecasts an estimated 400 billion yuan will depart China's property market next year with the destination being A-shares equities.
"The Shanghai Stock Exchange Composite Index(symbol: SHCOMP, +3.11%) is showing the largest positive risk adjusted return across regions and assets. In absolute terms, the SHCOMP increased by the most in 15-months and extended its YTD performance to over 30%," said Rareview Macro founder Neil Azous in a research note out Tuesday.
News that home sales in China's 54 largest metro areas surged nearly 9% last month is fueling gains for already high-flying U.S.-listed A-shares ETFs.
After ranking as one of November's top-performing non-leveraged ETFs, the Deutsche X-trackers Harvest CSI 300 China A-Shares Fund (NYSEArca: ASHR), the largest U.S.-listed A-shares ETF, is higher by 5.5% today on volume that has already exceeded the daily average. Joining ASHR in the all-time high club is the KraneShares Bosera MSCI China A-Shares ETF (NYSEArca: KBA), which is higher by 4.7% on volume that is more than 30 times above the daily average.
ASHR and KBA are two of just 11 ETFs to hit all-time highs to this point in Tuesday's session.
The Market Vectors ChinaAMC A-Share ETF (NYSEArca: PEK), the oldest U.S.-listed A-shares ETF, is soaring by 5.4% on heavy volume and is trading at its highest levels in nearly three and a half years. Although the A-shares ETFs do not feature the excessive financial services sector exposure found in the iShares China Large-Cap ETF (NYSEArca: FXI), the trio is still levered to investor sentiment to China's largest financial services firms. The average weight to the financial services sector across ASHR, KBA and PEK is 38.7%.
"Trading values in the Shanghai Composite rose to a record 401.6 billion yuan ($65.3 billion) last week, boosting the profit outlook of brokerages relying on trading commissions as the main source of their revenue," according to Azous.
For the entire article from ETFtrends.com please click here