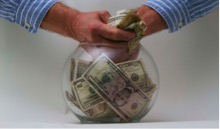 Brokerdealer.com blog update courtesy of Mike Spector and Mark Maremont of the Wall Street Journal.
For years, Private Equity firms have doubled-dipped by receiving management fees from their institutional investors, and at the same time, have pocketed hundreds of millions of separate fees from the companies they have acquired on behalf of those same institutional investors. For the first time, these firms are being pressured by investors, and in some cases, federal regulators to stop the practice of double dipping or face further scrutiny.
The investment firms usually collect the fees from companies they buy for providing services such as consulting, serving as directors and helping them make their own acquisitions. Instead of keeping some of the money, the buyout firms, in new funds they are raising, will now pass the fees on in full to investors in the funds.
The payouts being reimbursed, known in the industry as transaction and monitoring fees, have provided many private-equity firms with a steady income stream augmenting their share of investment gains on deals, which remain the key source of profits from their buyout funds. Private-equity firms buy companies using a combination of cash raised from investors and borrowed money with the aim of improving the companies' value and selling for a profit a few years down the line.
Buyout firms often receive transaction fees from a company after completing a takeover and for other deal activities, and monitoring fees for consulting and other work while holding the investment.
The turnabout by managers including Blackstone Group LP, KKR & Co. and TPG represents a significant concession in the face of persistent clamor for the private-equity industry to do a better job sharing and disclosing their fees.
The decision by private-equity firms to essentially reimburse investors with payments that can amount to tens of millions of dollars or more, sometimes on just one transaction, shows the increased influence wielded by investors such as public pension funds that historically accepted terms buyout firms proffered.
For Spector and Maremont's entire Wall Street Journal article, click here.