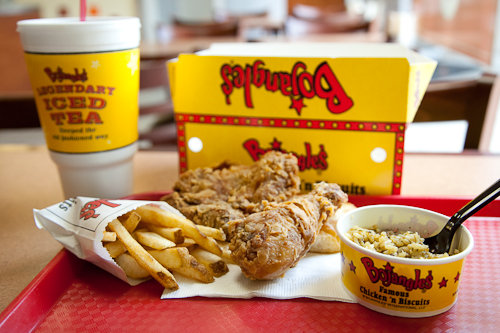 Bojangles is a chain fast food restaurant that is based out of North Carolina. They are most well known for their spicy, "Cajun" fried chicken and buttermilk biscuits. After being around for 38 years, the company has decide to go public and filed for an IPO earlier this week. Bojangles is expected to raise $372 million from the initial public offering. Brokerdealer.com blog update profiling Bojangles' IPO and key things to know about Bojangles before investing in their IPO is courtesy of MarketWatch. An excerpt from Ciarra Linnane of MarketWatch's article "6 things to know about Bojangles' ahead of its IPO".
Chicken-and-biscuit restaurant chain Bojangles' Inc. has filed for an initial public offering. The North Carolina-based company has tapped Bank of America Merrill Lynch, Wells Fargo Securities, and Jefferies as lead book runners on the deal. The company is planning to list on the Nasdaq exchange under the ticker symbol "BOJA."
Here are six things to know about Bojangles':
It doesn't meddle with its menu
Bojangles' menu hasn't changed much since it opened its first outlet in Charlotte, N.C., in 1977, according to its IPO prospectus. The company now boasts 622 stores across 10 states and Washington, D.C., but is still famous for its bone-in fried chicken, its buttery biscuits and its home-brewed — sorry, that's home-steeped — ice tea.
It is very U.S. focused
Bojangles' is very much a domestic U.S. operation. It currently operates in Alabama, Washington, D.C., Florida, Georgia, Kentucky, Maryland, North Carolina, Pennsylvania, South Carolina, Tennessee and Virginia. Internationally, it has three restaurants, all of them located in Honduras.
To read the other four things to know about Bojangles and its IPO, click here.