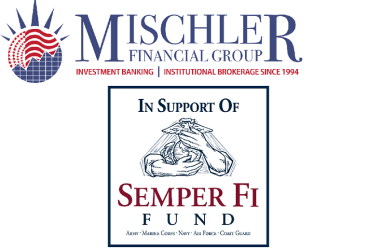 Since its inception in 1995, boutique investment bank and institutional brokerage Mischler Financial Group ("MFG") has been devoted to meeting the capital market needs of the nation's leading corporations, municipal issuers and a broad spectrum of the industry's most demanding investment managers and public plan sponsors. Positioned as a firm that 'punches above its weight class in every metric', Mischler is viewed by corporate treasurers and 6-pack banks as a 'pure complement' to the role played by lead underwriters. The firm's highly-coveted middle-markets investor base, comprised of public plan sponsors and investment managers are notoriously 'under-covered' by the big Wall Street banks, and Mischler's ability to bring these relationships to primary market offerings floated by Fortune corporations is a noticeable value add. The firm is also known for being the sell-side's first and arguably, most foremost minority broker-dealer owned and operated by Service-Disabled Veterans.
Of equal importance, throughout its history, the firm has committed resources and year-round financial support to veteran-centric legislative initiatives, career building and mentoring veterans. This includes support of philanthropic programs focused on improving the quality of SDVs and their families' lives as well as charitable programs that concentrate on supporting the families of military men and women who made the ultimate sacrifice in the course of serving our country.
In connection with the firm's year-round philanthropic mission, the months of May and November are specifically dedicated to honoring Memorial Day and Veterans Day. During these two months, Mischler contributes a percentage of the firm's profit to select organizations that according to Chief Executive Officer Dean Chamberlain, a West Point grad and certified SDV,  "We deploy support to organizations that have a positive impact on the lives of vets, SDVs and Gold Star family members who simply do not have the depth of resources that so many of us take for granted."
In honor of "Memorial Day Month 2018," Mischler announced its annual pledge to the Semper Fi Fund, one of the country's highest-rated charities. Formed in 2004, "SFF" is committed to providing immediate financial assistance, education scholarships, career transition programs and life-time support to post-9/11 combat wounded, critically ill and catastrophically injured members of all branches of the U.S. Armed Forces and their families.  Since its inception, Semper Fi Fund has distributed over $167 million to more than 20,000 service members and their families and MFG is therefore privileged to continue our support of SFF.
Stated Chamberlain, "On behalf of the entire Mischler Financial Group family, we are grateful and honored that clients of our firm will be supporting our Memorial Day Month 2018 pledge via our trading and capital markets desks and/or direct contribution to SFF.