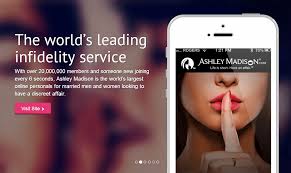 BrokerDealer.com IPO update looks past today's hot Initial Public Offerings from crafty company Etsy, (NASDAQ: ETSY), the $300mil+ captured by Virtu Financial, the fast trading electronic market maker (NASDAQ:VIRT) and even the big boost in today's first day of trading for Party City Holdings (NYSE:PRTY)…
Instead, and thanks to Bloomberg's Kristen Schweizer uncovering the story, we'd argue that all eyes should really be on a truly Hot IPO still in the pipeline, and portending to bare all to investors via a planned listing on the London Stock Exchange. Here's the unadulterated coverage from Bloomberg's 15 April story:
AshleyMadison.com, a dating website for cheating spouses, wants to hook up with investors by pursuing an initial public offering in London this year.
The site's parent company, which failed with a previous IPO attempt in Canada, said on Wednesday it is looking to raise as much as $200 million to exploit booming demand for its services.
AshleyMadison had sales of $115 million last year, an almost fourfold increase on 2009, Christoph Kraemer, its head of international relations said in an interview. It makes money by charging men for credits, which they then use for introductions to women.
Avid Life Media Inc., the Toronto-based holding company that runs AshleyMadison.com along with peers Cougarlife.com and EstablishedMen.com, wants the new funds for marketing and international expansion.
AshleyMadison has 36 million members in 46 countries, Kraemer said, and claims to be the world's second-largest paid-for Internet dating website, behind Match.com.
While the U.S. accounts for about 50 percent of its business, Kraemer said "Europe is the only region where we have a real chance of doing an IPO" because of its more liberal attitude toward adultery.
"We're no longer a niche, but it's been difficult in North America to find the support to go public," he added.
The company has also set a target that 50-60 percent of its sales will come from Asia by 2020, including Japan, Taiwan and South Korea.
Avid Life Media, whose investors are wealthy North Americans who prefer to remain anonymous, registered 45 percent sales growth last year and a profit margin between 20 percent and 25 percent, according to Kraemer, who said the company estimates its value at $1 billion.
It attempted a share sale in Toronto in 2010 but investor appetite wasn't there, he said. "Right now our focus is to do our homework on London. It's our priority and our second attempt at IPOing has to go well. We don't want to repeat what happened the first time around."
The entire story is bared via this direct link to Bloomberg LP uncoverag