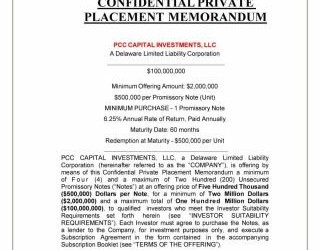 Private Placement Offerings Surge as Demand for Offering Memorandum Document Experts Follows Along
Whether due to improving economic conditions in the US as well as various other parts of the world, or due to technology advancements that serve as the catalyst to innovative products and services that solve legacy business challenges, the global private placement marketplace is surging. With this new era of entrepreneurship, the need for investor offering memorandum experts is likewise cascading. In Wall Street parlance, the demand for such experts is nearly "over-subscribed," meaning the supply of capable professionals who specialize in preparing fully-compliant investor offering documents is being stretched thin. But, at least one firm within the professional services sector is addressing the investor documentation needs of forward-thinking business enterprises and they are situated neatly within the "curl of the wave"-all you need to find them is a search engine and the right key words/phrases.
Operating under the web banner OfferingMemorandum.com, the firm behind this portal is NY-based Broker Dealer LLC and with footprints in various cities across the global financial services ecosystem, they are leading the pack by making it simple and easy for broker-dealers*, captive business advisors and corporate lawyers for companies of any size and located in nearly every geographic location of the world to engage local securities law professionals and investor offering document experts who specialize in preparing preliminary offering memorandums, red herrings and final offering prospectus documents that conform to financial industry best practices and comply with local regulatory guidelines that govern investor solicitations. (*For various reasons, registered broker-dealers do not prepare the investor offering memorandum or an offering prospectus, and it is therefore incumbent on the Issuer to provide the investor offering documents.)
According to Ryan Gorman, a PR-IR-Corporate Communications expert who works with many startup companies, "While some capital markets  professionals will attribute the continued spike in private placement issuance to the 'Trump Bump",others will credit the evolution of the JOBS Act [the US legislation spearheaded by former President Obama intended to make the regulatory steps more simple for small companies in the US to raise capital], global macro gurus point to the rising economic tides in various regions of the globe. That said, nobody disputes the number of new companies and latter-stage funding initiatives for small, medium and large companies remains in an unobstructed uptrend.
Private Placement offerings are surging and direct IPOs are gathering steam. But, for those seeking to raise capital for a start-up or to fuel expansion for a fast-growing business, any entrepreneur worth his salt knows their first step is preparing a cogent business plan, then consolidating that blueprint into a short-form 'pitch deck' and once prospective investors have expressed interest in the investment opportunity, the enterprise seeking capital (aka "Issuer") provides the investor with an offering memorandum or an offering prospectus. Simple as this process might sound, offering memorandum preparation is non-trivial and is typically performed by securities attorneys who specialize in investor offering documents. Also known as an "OM", the offering memorandum is perhaps the most critical document, as it frames the terms and conditions of the investment, and when prepared within the context of best practices, the offering memorandum is the document that both Issuer and Investor can hang their hats on. Somewhere in the mix, the enterprise that seeks funding (also known as the Issuer) might engage a registered broker-dealer to serve as a placement-agent aka underwriter for the financing round, or the Issuer may already have identified investors and has determined there is no need to engage a broker-dealer
*Registered broker-dealers generally serve as a placement agent or underwriter for a capital raise, but typically defer to the Issuer to provide them with the investor offering documents, as such it is the obligation of the Issuer or their corporate counsel to create an offering memorandum or a prospectus. In most instances the Issuer will engage their law firm to prepare these documents, and increasingly, law firms that do not have a securities law practice will outsource or sub-contract to firms that dedicated to this type of work. As the number of private placement offerings and direct IPOs via Regulation A+ continues to grow, portals such as OfferingMemorandum.com and Prospectus.com provide a unique solution.