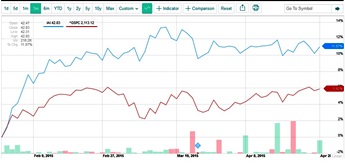 BrokerDealer.com blog update profiles the revenue and profit performance of the US Broker-Dealer space as demonstrated by the pricing action in the iShares US Broker-Dealer ETF (NYSE:IAI) when compared to the returns of the S&P 500 (see chart). Below extract is courtesy of coverage from ETFtrends.com.
Independent broker-dealers generated double-digit revenue growth in 2014, and a broker-dealer- related exchange traded fund is outperforming in the financial space so far this year.
BrokerDealer.com database is the global financial industry's leading source of BrokerDealer information, with detailed information on thousands of BDs in upwards of 30 countries worldwide.
Over the past three months, the iShares US Broker-Dealers ETF (NYSEArca: IAI), which tracks U.S. investment banks, discount brokerages and stock exchanges, has increased 7.8%, compared to the 2.5% gain in the broader Financial Select Sector SPDR (NYSEArca: XLF). Year-to-date, IAI was up 0.7% while XLF dipped 1.5%.
The 25 largest independent broker-dealers generated a 10.3% year-over-year rise in revenue over 2014, reports Bruce Kelly for InvestmentNews.
Top independent broker-dealers include LPL Financial LLC (NYSE: LPLA), which garnered $4.3 billion in revenue, and Raymond James Financial Services (NYSE: RJF), which added $1.6 billion. IAI includes a 3.4% tilt toward LPLA and a 4.7% weight in RJF.
The industry is experiencing an increase in fees. Revenue from investment products and services that charge a fee instead of a commission rose 20% in 2014 among the top 25 independent broker-dealers, mirroring a growing trend in the services industry.
For the full article from ETFtrends.com, please click here