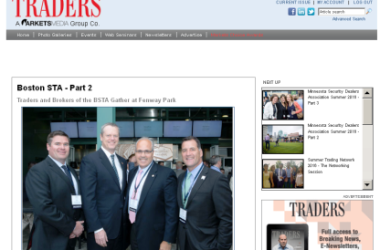 If you are an institutional broker-dealer that is focused on sell-side "comings and goings" (or goings and comings), for years Traders Magazine has likely been your source of sell-side news and related topics of interest.  John D'Antona, TM's long-standing senior editor and contributing writer has become a mainstay in your diet of news bytes that traders use to keep an eye on and ears open when it comes to job opportunities and prospective greener pastures, as well as regulatory topics, fintech innovation as well as select scraps of intel from buyside trading desks.
Traders Magazine has been your bible (ok, some might call it a rag, or a nice distraction) and per announcement below, its now under new ownership and will reside under the umbrella of
Markets Media LLC
, the digital and print publisher and producer of financial industry conferences in leading financial centre cities across the globe. Below news coverage courtesy of media industry publisher "Media Post"
(Media Post) Jul 5 2016 Markets Media has acquired Traders Magazine from SourceMedia. The combined entity will have a total unique audience of 135,000, made up of 120,000 digital readers and 15,000 print readers.
According to a statement, Markets Media "is committed to investing in the Traders brand by providing the resources necessary for digital expansion, both immediately and for the long term."
Founded in 2007, Markets Media is a digital publisher focusing on institutional trading and investing in North American and European markets.
Mohan Virdee, founder and CEO of Markets Media, told Publishers Daily that the acquisition of Traders was "a very nice fit to our existing business in terms of the depth of the trading community across North America. We've established a good brand among that community."
Virdee said the timing of Traders joining Markets Media couldn't have been better – Markets Media is in the midst of upgrading their platform this summer.
"We have already started to upgrade all of our systems. We will do that with Traders, as well as we go through the transition," he said.
The upgrades will affect the design and functionality of the brands' digital space, as well as introduce a "more aggressive social media campaign," Virdee said.
Additionally, Markets Media will upgrade their mobile presence and create "innovative advertising solutions for our core customers and existing Traders customers," he added.
For now, the company says Markets Media will operate MarketsMedia.com and TradersMagazine.com as separate sites, producing original content independently.
Traders is a digital information and news service that has served professionals in North American institutional markets for 30 years. The company is also known for its sponsorship of social, charity and networking events.
SourceMedia owns brands like American Banker, The Bond Buyer, Mergers & Acquisitions, Financial Planning, On Wall Street and Accounting Today.