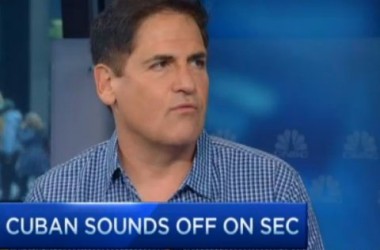 Law360, Los Angeles (October 30, 2015, 9:52 PM ET) — The Eleventh Circuit on Thursday allowed billionaire Mark Cuban, a self-described victim of U.S. Securities and Exchange Commission overreach, to file a third-party brief backing real estate developer Charles L. Hill, who is challenging the SEC's expanded but controversial use of administrative law judges.
Cuban, an entrepreneur and owner of the Dallas Mavericks who beat insider trading allegations brought against him by the SEC in 2013 after a jury trial, argued in an amicus brief filed with the court Thursday that the SEC's aggressive use of a "defective" in-house tribunal creates unpredictability that harms the public's best interests.
The SEC is virtually undefeated in in-house administrative proceedings, Cuban said, but is far less successful when it litigates in federal court.
"When the SEC has the ability to significantly influence the outcome of a complex, credibility-based matter such as its insider trading case against Mr. Cuban — or its insider trading case against Mr. Hill — merely by placing it into an administrative proceeding rather than a federal court, investors' ability to predict the types of conduct that will, or will not, result in sanction is diminished, and the free flow of capital is impeded," the 39-page brief states.
Cuban said that the SEC's designation of administrative law judges as employees and not officers creates an "inherently biased proceeding" in which the judges are pressured to favor the SEC's division of enforcement in administrative proceedings, according to the brief.
"The SEC seeks to force Mr. Hill to litigate similar [insider trading] issues before an ALJ that the SEC states has the status of a low-level functionary, a mere employee, with neither the stature (nor political accountability) of an officer nor the independence of a federal judge," he said.
For the full story from Law360, please click here