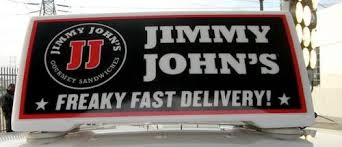 Jimmy John's is a franchised sandwich restaurant chain, specializing in "freaky fast" delivery and is based out of Champaign, Illinois. Jimmy John's is currently owned by Jimmy John Liautaud and Weston presidio. Brokerdealer.com blog update profiles as this sandwich restuarant chain reportedly gears up to launch an IPO. The chain has been around since 1983 but has only recently grew in popularity, currently there are more than 2,000 locations in 43 states. This Brokerdealer.com blog update is courtesy of Reuters' article, "Exclusive: Gourmet sandwich chain Jimmy John's prepares IPO – sources", with an excerpt below. 
To contact a brokerdealer to help you get in on this freaky fast IPO, click here.
Jimmy John's Franchise LLC is preparing for an initial public offering that could value the popular U.S. gourmet sandwich chain at more than $2 billion, including debt, according to people familiar with the matter.
Jimmy John's, which is owned by founder Jimmy John Liautaud as well as private equity firm Weston Presidio, is interviewing investment banks to serve as underwriters for an IPO that could come later this year, three people said.
Jimmy John's has annual earnings before interest, tax, depreciation and amortization of roughly $150 million, the people added.
The sources asked not to be identified because the deliberations are confidential. Representatives of Jimmy John's and Weston Presidio did not respond to requests for comment.
To continue reading about Jimmy John's likely IPO happening later this year, click here.