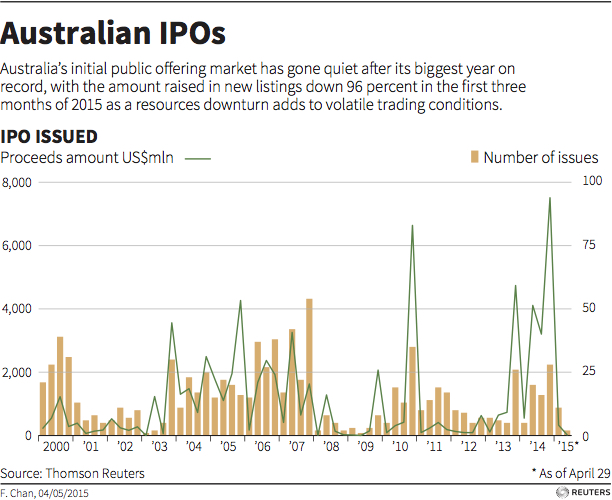 Brokerdealer.com blog update profiles the low number of IPOs Australia has produced. After a record setting year in 2014, Australia's list of IPOs has dropped dramatically. An article from DNA India's titled "After record IPO year, Australian listings shrink to almost nothing", highlights several possibilities as to why the drop in IPOs could be. An excerpt from the article is below.
Australian IPOs have virtually dried up after a record year, taking their cue from a subdued stock market as investors fret about the country's commodities bust and China's weakening economy.
After an unprecedented $15 billion of initial public offerings last year, companies raised $327 million in January-to-March, Thomson Reuters data shows. That's down 96% from a year earlier and a fraction of the $7.5 billion
in the previous quarter. The drop-off reflects the skittish mood in Australian equities. While the market bounced 7% in January following a weak 2014 finish, it has since failed to make headway as investors shrug off record low
interest rates and watch the all-important iron ore price sink.
The average size of an IPO in the March quarter was $30 million, down from $270 million in the December quarter and $100 million a year earlier. Last year, many private equity firms offloaded assets they had held since the aftermath of the global financial crisis. This year has been marked by just one big listing and a spate of tiny IPOs by small companies. "We've had a very long bull market since the bottom in '08, and we find it hard to find value," said Geoff Wilson, chairman of Wilson Asset Management, which bought shares in Monday's market debutant MYOB.
To continue reading about the fall in Australian IPOs, click here.