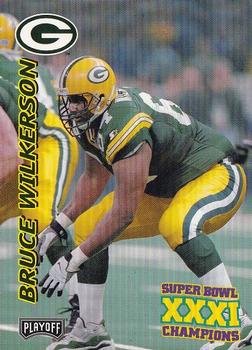 Brokerdealer.com blog update courtesy of InvestmentNews' Mason Braswell's 16 March article, "Ex-NFL player left out in the cold after $2 million award". Ex-NFL and former Green Bay Packer tackle, Bruce Wilkerson found himself in a ponzi scheme has won some money back from a defunct broker-dealer but won't be able to recover it all. An excerpt from InvestmentNews is below.
Resource Horizons Group, a defunct broker-dealer that had racked up more than $4 million in unpaid damages from arbitration claims, can add another $2 million to that list.
Bruce Wilkerson, a former tackle who started for the Green Bay Packers in the 1996 Super Bowl, was awarded $2 million in damages last week after losing $650,000 in an alleged Ponzi scheme carried out by a rogue broker at the Marietta, Ga.-based firm.
Mr. Wilkerson, however, is not likely to ever recoup any of the money, which represented a substantial portion of his net worth, according to his attorney, Adam Gana.
"It's outrageous," said Mr. Gana of an eponymous firm. "There's virtually no chance that [Mr.] Wilkerson is going to get paid."
Resource Horizons Group, which had around 220 brokers, went out of business in November after accruing more than $4 million in judgments against it from two arbitration awards, which it could not afford.
"Funds for payment are not available, which is why the company is being forced to close," the firm said on a filing in its BrokerCheck report. "The clients will have the same right as any other creditors of the company for the funds that are available."
The Financial Industry Regulatory Authority Inc. officially suspended the firm in December for failing to comply with a $4 million award and then in January canceled Resource Horizons Group's license, according to its public BrokerCheck record.
The firm, which had only around $500,000 in excess net capital on hand, has paid only a "very small percentage" of the $4 million award, according to the attorney in that case, John Chapman of an eponymous firm.
Mr. Chapman said Resource Horizons Group had applied for insurance coverage around the time the first complaint about the alleged Ponzi scheme cropped up, but was denied coverage because of the nature of the fraud.
"To me this underscores the question of why does Finra allow broker-dealers to operate with such incredibly thin resources?" Mr. Chapman said. "We're sort of stuck."
The arbitration awards are tied to an alleged rogue broker at the firm, Robert Gist. In 2013, Mr. Gist agreed to pay $5.4 million to settle charges from the SEC that he had conducted a Ponzi scheme and converted funds from at least 32 customers for personal use between 2003 and 2013. Mr. Gist could not be reached for comment.
He conducted the scheme and made false customer statements for clients through Gist, Kennedy & Associates Inc., an unregistered entity not affiliated with Resource Horizons, according to the SEC's complaint.
Several clients, including Mr. Chapman's, filed claims against the firm and its top two executives, David Miller and his wife, Kelly Miller, for negligence and failing to supervise Mr. Gist. They were held jointly liable along with the firm for the nearly $4 million in claims from Mr. Chapman's case.
To read the entire article from InvestmentNews, click here.