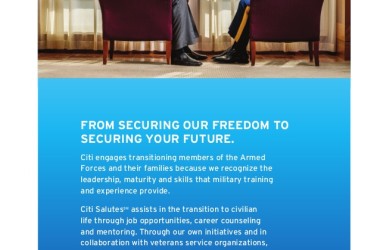 In advance of this year's Veteran's Day (Wed, Nov 11), BrokerDealer.com salutes Citigroup for its salute to veteran-owned brokerdealers. Citigroup (NYSE:C), is not only one of the world's leading investment banks, it is also one of the financial industry's most focused firms when it comes to diversity and inclusion. Citi's leadership is long recognized for its corporate philosophy that strives to create good will among employees and respect of clients through initiatives that advance job creation and improving standard of living. In that spirit, Citi announced that it worked exclusively with veteran-owned brokerdealer firms to syndicate a recent $1.5 billion bond issuance, clearly showing Citi's commitment to providing opportunities to the veterans' community.
In the transaction, which priced on October 23, Citi hired five veteran-owned financial firms to distribute the bonds to investors. The firms comprised Academy Securities, Inc.; CAVU Securities, LLC; Drexel Hamilton, LLC; Mischler Financial Group, Inc.; and Multi-Bank Securities, Inc.
"Citi is proud to support our nation's veterans and to partner with these firms, all of which executed with excellence and assisted us deliver a very successful transaction," said Suni Harford, Citi's Regional Head of Markets for North America. "This deal provides a great example of how companies can partner with veteran-owned businesses to provide opportunities for them to grow and succeed."
BrokerDealer.com hosts the global financial industry's most comprehensive database of broker-dealer firms, including comprehensive information for brokerdealers operating in more than 30 countries across the free world
Through the October 23 deal, Citi re-opened a $2 billion issuance originally priced in September, pricing $1.5 billion in additional bonds and bringing the total outstanding securities to $3.5 billion. Investors responded positively to the deal, which Citi hopes will be the first of similar transactions involving veteran-owned firms in the future.
Citigroup Inc., a diversified financial services holding company, provides various financial products and services for consumers, corporations, governments, and institutions worldwide. The company operates through two segments, Global Consumer Banking (GCB) and Institutional Clients Group (ICG).