Brokerdealer.com blog update courtesy of extracted opinion piece published Dec 22 by Pensions & Investments Magazine and submitted by Andrew Stoltmann, a partner at Chicago-based Stoltmann Law Offices PC, who represents investors in securities litigation and FINRA arbitration claims.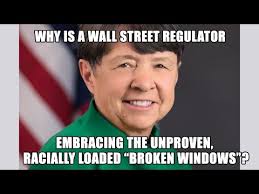 "..The Securities and Exchange Commission is unfortunately pursuing a fundamentally flawed strategy to police the capital markets and protect investors.
Last year, SEC Chairwoman Mary Jo White disclosed she intends on pursuing a "broken windows" strategy for securities enforcement. The SEC intends on prosecuting even minor violations of the federal securities laws in order to prevent wrongdoers from engaging in even more egregious conduct.
The theory is that when a window is broken and someone fixes it, it is a sign that disorder will not be tolerated. When a broken window is not fixed, it is a signal that no one cares, and so breaking more windows, and more serious crime, will follow. This approach is the one taken in the 1990s by New York City's then-Mayor Rudy Giuliani and Police Commissioner Bill Bratton back when Ms. White was the U.S. attorney for the Southern District of New York, which includes Manhattan.
Unfortunately, the "broken windows" strategy championed by Ms. White is fundamentally flawed. By going after minor offenses, it artificially inflates the SEC's enforcement actions and gives the appearance of being tough on bad actors. In reality, it is a mirage. Continue reading →