California, Nevada , Arizona, Florida, New York & NJ have highest number of bad apple brokers.
BrokerDealer.com blog update courtesy of extract from Dec 26 WSJ story by Jean Eaglesham and Rob Barry …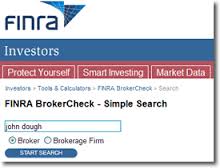 In what can best be described as a Faustian tale taken from Alice in Wonderland, it should be no wonder that bad apple brokers continue to prey on investors, with no thanks to the archaic system overseen by financial industry regulators, most notably the "self-regulated" Financial Industry Regulatory Authority aka Finra. WSJ reporters Jean Eaglesham and Rob Barry provide insight into the dumb data system employed by the industry's watchdog:
Wall Street's own national watchdog doesn't make public all the regulatory red flags it has about brokers, prompting calls from state regulators for more expansive disclosure.
Investors checking disciplinary records from the Financial Industry Regulatory Authority, or Finra, can see that in Bennett Broad 's 35-year career as a stockbroker, he has faced 25 customer complaints involving alleged trading abuses, and that 15 ended in payouts to clients.
What they won't see is that a former employer, UBS AG , launched an internal investigation into Mr. Broad's business practices back in 2003 and then, according to state regulators, "permitted" him "to resign." At least eight of his 25 complaints involved conduct after that investigation.
Finra, an industry-funded overseer of brokers, encourages investors to check its BrokerCheck Web page to look for regulatory red flags about individual brokers, including complaints, regulatory actions, terminations for cause and personal bankruptcies. Mr. Broad's BrokerCheck reveals neither the UBS investigation nor his resignation—even though they show up on his state regulatory record.
A Wall Street Journal examination of federal and state regulatory data revealed that a wealth of information about brokers is reported to the national regulator but not made public by it. The Journal found at least 38,400 brokers have regulatory or financial red flags that appear only on state records, which in most states aren't available without contacting state regulators. Of those, at least 19,000 had completely clean BrokerCheck records. A comprehensive database of brokerdealers registered in the US and major countries throughout the globe is available here.
California, Nevada , Arizona, Florida, New York & NJ have highest number of bad actor brokers.
The Journal's analysis included 6,527 registered stockbrokers with offices in Fort Lauderdale and Boca Raton, Fla., highlighted on the adjacent map. Of those, 342, or 5.2%, reported three or more red flags on their disciplinary records. For every 10 brokers in this area, there were 4.9 disclosures, 126% higher than the rate among all brokers in the Journal's data.
Brokers with troubled regulatory records were often found in areas with wealthy, elderly populations. In this hot spot, the share of households headed by people aged 65 and up with incomes in excess of $100,000 was about 39% greater than the nation as a whole.
For the entire article from WSJ, please click here.