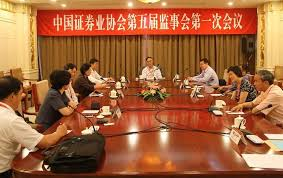 (Bloomberg) — The Securities Association of China will ban brokerages from offering financing for stock market trading using derivatives, the country's securities regulator said.
Brokerages should provide funding to their clients using margin trading tools that comply with the rules, China Securities Regulatory Commission spokesman Zhang Xiaojun said Friday at a briefing. Swaps offered by some brokerages have deviated from their role as a risk management tool, instead becoming a way to offer unofficial margin loans for investors, Zhang said.
China's regulators are attempting to prevent another build up of leverage in the stock market similar to the borrowing binge that took place earlier this year and helped propel the boom and then bust in Chinese share prices. Earlier this month, the country's two mainland stock exchanges doubled margin requirements to 100 percent in another move to limit leverage in the market.
"After the stock market rout, regulators have a new understanding about leverage," Chen Xingyu, a Shanghai-based analyst at Phillip Securities Research, said by phone. "Their measures have been focusing on deleveraging and reducing risk and this policy stance should continue. The regulators will be more conservative and prudent than before."
Zhang was confirming a report Thursday in Caixin magazine, which said China's brokerages were told to wind down the business of offering total return swaps, a type of over-the- counter derivative, for clients who want to trade stocks.
At the end of October, the over-the-counter derivative businesses of 39 brokerages had an outstanding nominal value of 279 billion yuan ($43.7 billion), according to data from the Securities Association of China. Of that, swaps accounted for 44 percent by value, while options contracts accounted for the rest.
The amounts involved in the swaps compare to China's official margin finance balance of more than 1.2 trillion yuan.
The total return swaps can offer three to five times leverage because the investor pays only a deposit to the broker and then a fixed-interest payment at the end of the contract, in return for receiving a floating return on the stocks.