BrokerDealer.com blog update courtesy of extract from Traders Magazine via Bloomberg LP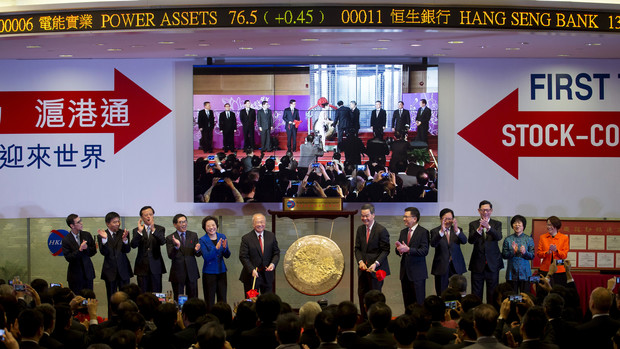 (Bloomberg) — China is considering allowing international investors to buy bonds and exchange-traded funds (ETFs) through the link between the Hong Kong and Shanghai bourses.
"We can offer more diversified products," Huang Hongyuan, president of the Shanghai Stock Exchange, said through a translator at a presentation in Hong Kong on Jan. 20. "Perhaps we can move to ETFs or bonds; we can perfect further transaction arrangements."
Since its launch last November, the link — dubbed Stock Connect — has only enabled investors to trade stocks listed on the major indexes in the two cities, with transactions capped at 23.5 billion yuan ($3.8 billion) a day. Including fixed income would give Hong Kong-based fund managers greater access to China's 1.32 trillion yuan of exchange-traded bonds.
The proposal "is a progressive step for China to open up the capital markets," Roy Teo, a Singapore-based strategist at ABN Amro NV, said in an interview in Hong Kong on Wednesday. "When the market opens up the difference between borrowing costs in Hong Kong and China would reduce."
Government notes due June 2023 yield 3.49 percent in Hong Kong's Dim Sum bond market, while similar-maturity securities in Shanghai pay 3.80 percent, according to data compiled by Bloomberg.
Valuation Gap
The valuation gap between dual-listed stocks in Shanghai and Hong Kong has widened since the Stock Connect opened on Nov. 17. The premium on mainland shares to those in Hong Kong was about 2 percent when the link began and ended last week at a three-year high of 33 percent, according to the Hang Seng China AH Premium Index.
China is loosening control of its currency and financial markets in an effort to attract foreign investment and increase global use of the yuan. The People's Bank of China said Tuesday it will move forward with yuan capital-account convertibility and encourage greater cross-border use of the currency. The world's second-largest economy needs its companies to diversify their sources of funding to mitigate borrowing risks.
To search for local broker-dealers across Asia, Brokerdealer.com provides a comprehensive database of regional brokers in China and surrounding countries.
For the entire story, please click here