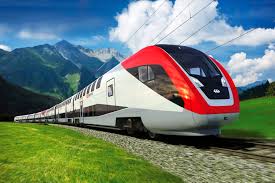 Brokerdealer.com blog update profiling Brombardier's plan to launch an IPO for its train unit. Bombardier is a Canadian multinational aerospace and transportation company, founded by Joseph-Armand Bombardier. This will push the company into an even better finacial postion after it raised $3 billion earlier this year.  They also hope by launching this IPO they can demonstrate the strength the rail unit has after its valuation suffered from being paired with the struggling aerospace division. This update is courtesy of the Wall Street Journal's article, "Bombardier Plans IPO for Transportation Unit" by Ben Dummett, with an excerpt from the article below.
Bombardier Inc. said Thursday it was preparing to spin off a minority stake in its train business, a move that would create another big publicly traded train maker in Europe while helping the Canadian company to shore up its balance sheet as it continues to work on bringing its troubled CSeries jet to market.
The planned initial public offering of Bombardier Transportation marks Chief Executive Alain Bellemare's first strategic move since Bombardier tapped the former United Technologies Corp. executive in February to help revive its fortunes. Bombardier has bet much of its future growth on its new CSeries commercial jet, but costly delays have delayed the aircraft's launch, prompting the management shakeup and a strategic review of operations to generate efficiencies.
Family-controlled Bombardier plans to sell a minority stake in Bombardier Transportation in an IPO in the fourth quarter, and list the shares in Germany where the business is based. The business would compete for investor attention with two other listed train makers in Europe: Germany's Siemens AG and France's Alstom S.A.
The sale will enable Montreal-based Bombardier, meanwhile, to further bolster its financial position after it raised about $3 billion earlier this year from an issue of new debt and equity. An IPO would also, the company hopes, demonstrate the rail unit's real value. The business's valuation has suffered because it is paired with the struggling aerospace division.
To continue reading about this IPO, which will be launched in Germany, click here.