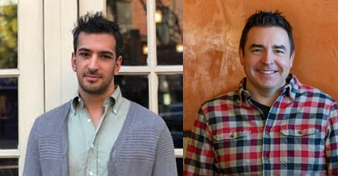 (Source: Law360.com ) Andrew R. Katz, aka Ross Katz (photo left) an Arvada, Colorado man who is said to be residing in New York and claims to be both a former UBS equity research analyst and a former FX trader for EFG Bank, and now presents himself as co-founder of  Seaquake.io, a"digital asset infrastructure company", along with Seaquake CFO Matthew J. Krueger of San Francisco (photo right), who claims to be a former PayPal "Finance Manager" and says he was the former "Head of Finance" for Venmo, along with UK resident Dylan Knight have been named as Defendants in a Federal Court complaint alleging the men advanced a systematic scheme to defraud a Florida-based investor group. The complaint cites multiple accounts of securities fraud, fraud in the inducement, and wire fraud.
A treasure trove of information submitted to the court include a slew of communications to the investors claiming the company was operating an enterprise with several different modules, including a high-frequency trading application for crypto currencies and delivering investors 1%-2% monthly returns. Other representations made within investor offering material and separate communications to the investors include claims the company had received equity investment proposals from an assortment of investors, including industry players Bitmex Ventures and Crimson Ventures. Katz also claimed to have established a strategic partnership with payment processing company PaySafe.
Based on those and other representations made by Katz, who lists former jobs at UBS Bank and EFG Capital-despite neither of those banks having any record of his employment, and Finra having no record of Katz ever being licensed by that securities industry regulator, the investors entered into a so-called "SAFE Agreement" with the company and provided capital to a Seaquake entity for purposes of deploying the funds to the company's purported high-frequency crypto currency trading application. The entity the investors sent funds to was dissolved within weeks after the investors transferred funds to Signature Bank in New York at the direction of Katz and or  Krueger directions.
According to the federal court complaint, the investors were informed by Katz after he took their funds that the "HFT application isn't working properly, and your money will moved to a money market fund until its ready." As acknowledged in a court appearance by a defense attorney hired by Katz, the investors funds were actually disbursed to personal accounts controlled by Katz and Krueger. According to the attorney, "the SAFE agreement did not preclude the defendants to use the money however they wanted."
In court filings, it appears that nearly every representation made by defendants Katz and Krueger were fictitious, including Katz's claim to have been summoned by "The Prince of Dubai" who, according to Katz, "oversees the country's sovereign wealth investments and wants to invest in the company." With regard to Katz's claims that representatives of each of Bitmex, UK-based Paysafe and Crimson were moving to invest in the company or form strategic partnerships with the company, representatives of those firms have indicated no record of ever expressing any investment or strategic interest in Katz or Seaquake. A representative for Bitmex Ventures did state "they sent us a pitch deck and a junior analyst spoke to Katz and informed him there was no interest on our part to work with him."
As indicated in the complaint, within days after receiving the investor's funds, Katz acknowledged the company was not actually operating a trading application for investors, and that "investors funds would be put into a money market account until such time as they could be properly deployed using the firms high-frequency trading software." In actuality, Katz and Krueger transferred the investors funds to personal accounts they control at Compass Bank and Bank of America, as well as to 'digital wallets' at Coinbase and Binance.
Katz, who claimed within investor offering documents to have backed the company with $1million of his own money, had not in fact made any significant capital investment in the company.  Within four weeks of having transferred funds to Seaquake and upon discovering the assortment of false claims made by Katz and Krueger, the investors demanded the return of their funds. In response to the demand by the investors for the return of their funds, correspondences from both Katz and Krueger both asserted they have "no obligation to communicate with Investor's attorney or to provide any information.." Two days after the demand letter was delivered via process server to defendants, they dissolved the Seaquake corporate entity that had entered into the agreement with the investors. Based on Signature Bank and Compass Bank transaction documents provided to the court, Katz and Krueger then systematically moved the investor funds to newly-created entities, then transferred tens of thousands of dollars to personal accounts controlled by Katz and Krueger individually, and moved the bulk of the investors' funds to accounts controlled by the defendants to crypto exchange Coinbase. Soon after, Katz or Krueger moved the funds in the Coinbase account to accounts at UK-based Binance.
According to background searches, Andrew Katz has a lengthy criminal history, including two arrests in 2018 in Los Angeles on domestic violence charges. A 2006 class action lawsuit against World Wide Association of Specialty Programs and Schools, a Utah-based facility for emotionally-troubled youth, identifies both Andrew Katz and his mother, Alyson Katz, also of Arvada, Colorado, among the plaintiffs.

Despite the charges, a man by the name of David Streltsoff, who is listed as Senior Vice President for San Francisco broker-dealer "US Capital Global" is apparently not deterred from associating himself with Seaquake. According to his LinkedIn profile Streltsoff signed on as "Business Development Executive" for the company in September. Federal court filings indicate Streltsoff has failed to respond to a federal court subpoena for information. Jeffrey Sweeney, the CEO of US Capital Global has not replied to inquiries.
Since the litigation was filed, at least one other investor has been identified as having been scammed. That investor was apparently introduced by a former Seaquake.io employee, an individual who is said to be cooperating with law enforcement authorities.
Share this:
Continue reading here